ME-7071 Portable ultrasound machine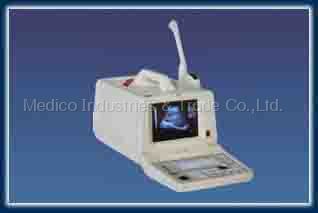 Features:
With LSI circuit, HCMOS integrated circuit and line-by-line scanning technology, transmit/receive circuits with multi-frequency, fine focusing capability, with good image.
Adopts SMT technology, designed with concise, efficient, high reliability circuits
Convex/liner array.
Image processing: pre-processing, post-processing, Gamma correction, bi-linear interpolation, logarithm compression, negative/positive control, left/right scan direction control, up/down scrolling control.
Signal output: standard PAL-D or NTSC video input/output, series ports, for any selectable printer.

Piercing guiding function.
Specifications:
Scanning Mode: Electronic liner, Convex, Micro-convex.
Display Mode: Real-time, Freeze, B, B+B,B+M,M
Gray scale: 256 levels
Frequency of scanning 2.0MHz-7.5MHz (selectable )
Probe : R13/R40/R60/R15mm compatible
Radius/angle of scan 60°-120°(Convex),width of scan ≤110mm(Linear)

Scanning Depth: 190mm-230mm(depend on probe types)
Resolution: lateral ≤2mm;longitudinal ≤1mm
Geometrical position :≤5%Body marks:≥16
Cine Memory: record & playback 64 frames (option)
The scan line: 512 lines/frame
Frame frequency:30 frames/second
Foocusing: dynamic aperture 4 points electronic focus, acoustical transmission lens focus. Focus can freely be combined or selected.
5 step zooming: x0.8,x1.0, x1.2, x1.5, x2.0 (any 4 selectabe)
Gain range:0-100dB continuosly adjustable.
Measurements: distance, circumference, area, volume, heart rate; fetal weight, fetal heart Gynecologic softwares: BPD, HL, FL, LV, WT, HC, AC
Documentation: full screen documentation, hospital name, patient name, date/time etc.
Built-in 2-Probe connectors, allow 2 probes connection at the same time

Puncturing guiding function
Trackball & fold-up keyboard
PAL/NTSC Video Output
Built-in 10inch B&W High resolution monitor
Power supply: 90-260V,50/60Hz
Dimension: 410mmx275mmx235mm
Standard Unit: Main unit+2.5/3.5/5.0MHz Multi-frequency
convex probe
Options Options: 5.0-7.5MHz Multi-frequency linear probe,
5.0-6.5-7.5MHz multi-frequency trans-vaginal probe, image record instrument, movable trolley, 14 inches black-white monitor
Copyright © 2015Medico(shijiazhuang) Industries & Trade Co.,Ltd. All Rights Reserved.