ME-7073 Portable Pulse Oximeter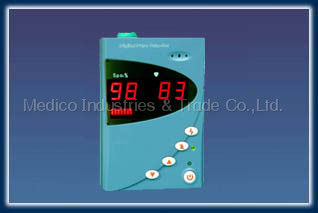 □ Simple: Easy five-button operation
□ Compact Size: 8.8oz.unit for easy handling
□ Flexible: Rechargeable battery, or AC power
□ Efficient: 8 hrs-rechargeable lithium ion batteries
□ User-friendly: Large LED display, low battery indicator
□ Customizable alarms for various clinical needs
□ White color/Blue color selectable
Oxygen Saturation Range: 0% to 99%
Pulse rate range: 30 to 250 pulses per minute. 30 to 400bpm for veterinary.
Accuracy (%Spo2±1S.D.): 70-99%±2 digits for normal status
50-69%±3 digits for normal status
50-100%±3 digits for motion
Pulse Rate: ±2bpm (normal status)
±3 bpm (motion)
Probe: Red light LED wavelength: 660nm±5nm
AC power (90-240 VAC, 50/60Hz)
Physical Dimensions & Weight
Base unit: 130mmx86mmx30mm, Weight: 250g (with rechargeable battery)
Environmental Specifications: Temperature: Operating: 0-45℃, Storage: -20-60℃
Humidity range: Operating: 30-95%, Storage: 10-100%
Operation Altitude: -500-5000 meters
Copyright © 2015Medico(shijiazhuang) Industries & Trade Co.,Ltd. All Rights Reserved.