ME-7082 Body-weight Scale (with Height Gauge)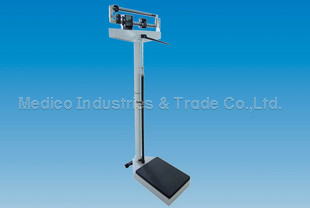 Body-weight scale (with Height Gauge) is widely applicable to measure the weight and height of people in enterprise, school, hospital, clinic and sports department, featuring advanced in design, fine in material and high in accuracy. The reading of weight is manually indicated on the primary and secondary scale plates respectively by means of two sliding weights so that it is very easy to be operated.
Max weighting: 140kg
Min. value per division: 0.1kg
Height range to be measured: 70-190cm
Min. value of height per division: 0.5cm
Load platform area (L×W): 375×270mm
Measurement (L×W×H): 566×437×1317mm
Copyright © 2015Medico(shijiazhuang) Industries & Trade Co.,Ltd. All Rights Reserved.