ME-1101 Multi-parameter patient monitor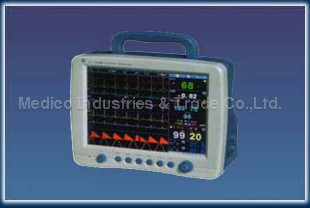 IFT real color show: ECG/RESP/TEMP, SpO2, NIBP
With the function of memory, cine-loop and wave freezing.
Blood pressure can be real-time measured or continuously
measured.
Blood pressure measuring range: adult or fetal (option).
ECG:
Heart Rate: 20-300bpm.
Accuracy of HR: ±2%.
Frequency Response: 0.05Hz~60 Hz.
ECG Lead: Ⅰ、Ⅱ、Ⅲ、aVR、 aVL、
(5 leads wire) aVF and V1-V6、GND.
Lead Off: Sound and light signal.
Sweep Speed: 12.5、25、50mm/sec.
ECG Lead Cable: For adult ,infant (or children) and neonate.
Non-invasive BP:
Measure method: Automatic Oscillatory
Measure internal: Manual or auto or 5 minutes Stat.
Measure parameter: SYST、 DIAS、 MEAN.
Accuracy of NIBP: ±5%.
Unit: mmHg or KPa.
Pressure of Cuff: 0~350 mmHg.
Type of Cuff: For Adult、infant(or children) or neonate.
Cuff Inflation: ﹤20sec.
Cuff Deflation: ﹤10sec.
Pulse Oximetry:
Measure parameter: SpO2、Pulse Bar Graph、 Plath、Pulse
Range of SpO2: 0~100%. ±2%(70~100%)
Range of Pulse: 20~250bpm.
Accuracy of Pulse: ±1bpm.
Temperature:
Range of TEMP: 20~45℃.
Accuracy of TEMP: ±0.2℃.
Respiration:
Measure Method: Impedance.
Range of RR: 0~120bpm.
Accuracy of RR: ±2%.
Other:
Power: 220V±10% 47~63Hz 25W.
Gross Weight: About 7.5kg.
40
TFT LCD: monitor.
Copyright © 2015Medico(shijiazhuang) Industries & Trade Co.,Ltd. All Rights Reserved.